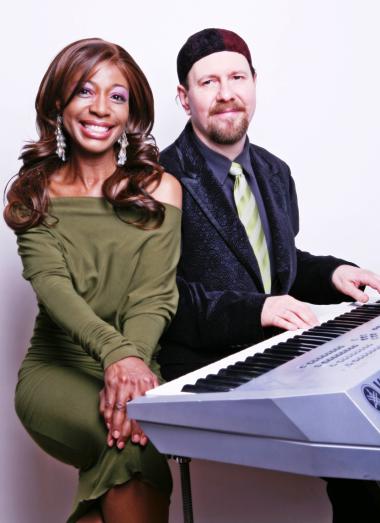 Vocalist Sandhi Santini has joined forces with keyboardist and arranger Michael Packlin to form the Sandhi Santini Duo. With Sandhi's hot buttered vocals and Michael's keyboard skills, the two combine the perfect ingredients of deep soul, technique, and raw emotions. They complement each other and create a distinctive and alluring musical signature that is uniquely theirs.
With an innate gift for heartfelt and magnetic renditions of popular dance, R&B, soul, standards and contemporary songs, this duo captivates their audience and takes them on an exhilarating journey of live, interactive entertainment! Combining their individual talents, experiences and backgrounds, Sandhi and Michael are proof that one plus one adds up to far more than the sum of their parts.
Born on a South Carolina sea-island in the USA, Sandhi is a world renown recording artist, songwriter and actress. She has performed throughout the USA, the Caribbean, Italy, Austria, Germany, Budapest, Greece and Turkey. Michael is an acclaimed keyboardist, pianist, arranger and producer.
This is a duo with a fresh, exciting sound, broad international appeal, and a comprehensive repertoire that's sure to please audiences at hotel outlets, festivals and corporate events.